Enzyme Complete - 1 Bottle
Enzyme Complete is a broad-spectrum digestive enzyme formula designed to support the digestion of fat, protein, carbohydrate, fiber, and lactose.  
Provides lipase, proteases, alpha-galactosidase, hemicellulase, papain, lactase, and other key digestive enzymes
Works in a wide pH range
Suitable for vegans
Share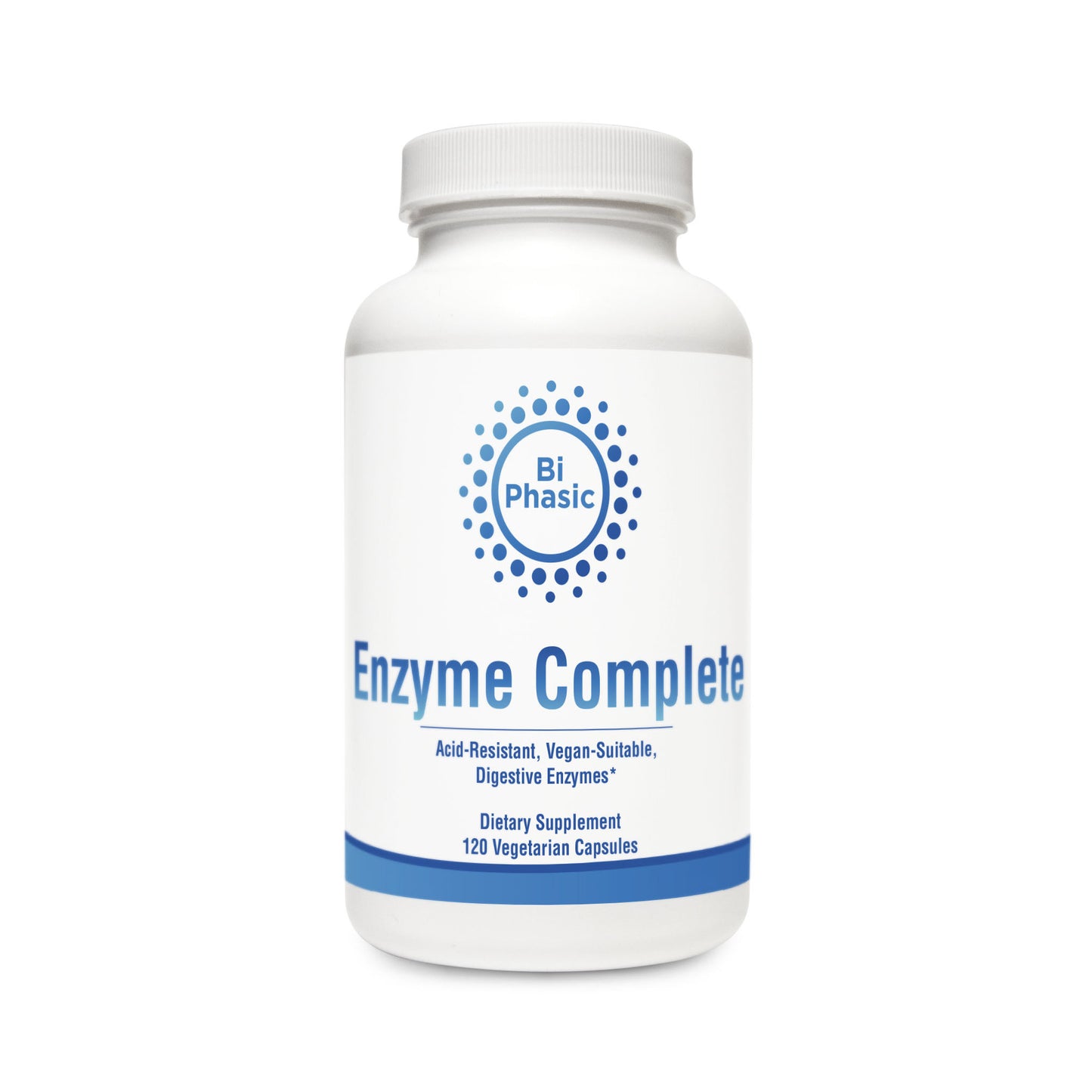 Highlights
Enzyme Complete accompanies Phase 1 of the BiPhasic Diet for Hydrogen Types.
1 Bottle = 1 Month Supply.
You may need a second bottle if you use 2 capsules with each meal.
• Supports Healthy Digestion of Macronutrients and Enhances Nutrient Absorption
• Supports Breakdown of Polysaccharides in Beans and Cruciferous Vegetables
• Helps Support Pancreatic and Brush Border Enzyme Function
• Supports Breakdown of Lactose
Supplement Facts
Contains Protease, Papain (from papaya), Bromelain (from pineapple), Amylase, Amyloglucosidase, Cellulase, Beta-Glucanase, Alpha-Galactosidase, Invertase, Peptidase (29 DPPIV), Pectinase, Lactase, Phytase, Acid Stable Protease, Lipase, Xylanase, Hemicellulase.
Other Ingredients:
HPMC (capsule), microcrystalline cellulose, stearic acid, magnesium stearate, and silica.
Suggested Use
Take one to two capsules with each meal, or use as directed by your healthcare practitioner. If necessary, capsules may be opened and contents sprinkled over food.
DISCLAIMER
These statements have not been evaluated by the Food and Drug Administration. These statements and the products of this company are not intended to diagnose, treat, cure, or prevent any disease.